Few activities get employees excited the way a good murder mystery party can. And this shouldn't come as a surprise - after all, murder mysteries are fun to organize and exciting to engage in, the best feeling of all being when the mystery is finally solved thanks to every player's input.
This collaborative aspect makes murder mysteries a great team-building tool. So, if you're looking to bring fresh dynamics to the office and allow your workers to test their skills, we'll go over everything you need to know to host these events.
Murder mysteries may be somewhat challenging to organize, but with the right steps and the right attitude, you'll host an event everyone in the office will be proud of.
But before we provide you with all the details, let's cover some murder mystery basics first.
Chapters
How To Host a Fun Murder Mystery Party
Murder Mystery Games You and Your Team Can Play
What Is a Murder Mystery?
Murder mysteries are games in which participants (players) are asked to solve a murder mystery in an allotted timeframe. They're required to identify suspects, find clues, collaborate with the rest of the players, and do other activities until the mystery is solved. Murder mystery games can be played both virtually and in person.
There are a plethora of murder mysteries out there, and although they share many common characteristics, each one comes with its own unique story, requirements, and guidelines. This is why it's very important for players to be open to different scenarios, instructions, and ways in which a specific murder mystery game may be played.
Murder mysteries can be either improvised or scripted. If it's the latter, the players follow an already written script and they simply play along until determining who among them is the criminal.
In improvised murder mystery games, on the other hand, the participants receive background information about their character and the overall game, as well as some tips and insights, however, the players have greater freedom in how they approach playing the game. In such games, there could also be some subplots apart from the main one (which is, you've guessed it, solving a murder), such as finding important clues, revealing confidential information, and so on.
Murder mysteries may include other details, such as themes, costumes, or special tech equipment, depending on how you approach playing the game. When it comes to which type of murder mystery game you should pick, it all comes down to preferences.
However, apart from sorting out your preferences, you also need to consider the efforts that come with planning and hosting your murder mystery party.
How To Host a Fun Murder Mystery Party?
Here are the basics to hosting your first murder mystery party so it's a guaranteed hit with your employees.
1) Plan your party
First things first, you need to give yourself some time to plan everything, ideally a week or two.
This involves choosing an adequate venue (based on the number of players), preparing the invitations (physical or virtual), setting the time and date, and so on. We suggest that you write everything down and make a detailed plan about how much time you need to plan the party and set everything up, and don't forget to prioritize your tasks. If you host an in-person event, you'll probably need some help, so delegate the tasks that aren't your forte so you can finish everything on time.
2) Create a guest list
Creating a guest list is the next crucial step that should be done before even choosing the specific game you'll be playing. The reason is simple, different murder mystery games require a different number of players, so knowing the exact number of employees who are interested in participating will partly determine which game you'll end up choosing. Another reason is the invitations; you need to have a particular number in mind to know how many to print out, that is, if you decide to hand out physical invites.
That said, be prepared that some people might cancel due to unforeseen circumstances, or some may show up last minute although they weren't planning on coming. Still, none of these situations is the same as having no idea about the number of guests you can anticipate. Having three extra guests out of the blue is manageable and different from having 20 more or fewer guests than what you initially planned for.
3) Choose a good murder mystery game
Choosing a good murder mystery game is as important as planning it. However, with so many options out there, it can get overwhelming, even when you've sorted out your preferences.
Therefore, we suggest you pick several options and run them by your guests. See how they feel about them and what the majority of the team is up for. Is it a murder game based in another era? Perhaps a distant location sounds appealing? What about the characters? What type of characters are you interested in playing? Also, how difficult is the game supposed to be?
Answering all these questions will help you make an informed decision so everyone on the team is happy with the final choice.
4) Assign roles
Creating your guest list goes hand in hand with assigning roles. Put simply, your guest number should correspond to the number of characters.
However, when faced with a list of up to thirty or forty characters in mysteries, it's an understatement to say that it's somewhat challenging to determine which of your guests should play what character.
There's not a one-size-fits-all solution when it comes to assigning roles, so you can approach this in whatever way you find suitable. You can assign the characters based on the players' personalities, or do the opposite and give them a character that's completely different from the way they are so that they get to adopt a new behavior. You can also do it randomly - it's up to you.
If you opt for a random choice, you might do it before the party starts, or you could do it well in advance. In case you wish to match your guests' characters with a suitable role, you should carefully go through each character description well before the party. Alternatively, you can also send the character list to your attendees and have them pick a character.
This might cause a bit of chaos, though, especially if you have a few guests wanting to play the same character. In this case, it'd be good to let your guests know there's no guarantee they'll get their preferred character, so you might suggest that each attendee writes a list of their top three preferences and then do your best to fulfill their wishes.
Extra tip: if you know a specific guest is able to find a gorgeous costume that corresponds to a specific role, give them that role. This brings us to the next point.
5) Share the theme and costume ideas ahead of time
You can't assign roles without talking about costumes and themes.
The theme is obviously linked to the murder mystery game you've picked. So, if it's set in the 1920s, you might end up with flapper girl characters or gangsters; if you opt for a pirate murder mystery party, you'll need pirate outfits and eye patches, and so on.
But first, you need to decide whether you'll help your guests with the costumes (ex. rent them) or you'll let everyone handle this matter on their own.
With that said, you don't need to opt for just one option. Sometimes people are resourceful, and they might find costumes and accessories from a wide range of places. The best way to go about this would be to discuss each character with the players, and see if they can find their costumes, borrow them from another player, make them, or rent them if all else fails.
6) Make name tags
Name tags or name badges.
They're usually optional and you probably won't need them for very small groups. Still, if you're hosting a big murder mystery party and you have a large group of players, they're going to be very useful, if not a must.
After all, you're trying to help your guests solve these mysteries, and not confuse them further or hinder their progress in the game.
The name tags can be fairly simple - you can print them out, put them in plastic name tag holders, and you're done.
7) Follow game instructions
All murder mystery games come with their own set of instructions. Most mysteries have detailed PDFs (host guides), lengthy explanations on their website, or a separate link you receive after purchase where you can find all about the rules and the guidelines.
Whatever your chosen specific murder mystery company provides you with, it's your duty to not only follow the instructions during the actual game to ensure the best possible experience, but read them well before the game begins as well.
Stay open to how a specific game is played. Just because you played a murder mystery game in the past and are familiar with those instructions doesn't mean another game has the same rules or guidelines. After all, almost each murder mystery has some authentic challenges, and so it's only natural that they coincide with some unique instructions, too.
8) Give prizes and awards
Whether you're hosting a murder mystery dinner party, or a random team-building murder mystery event, it's only suitable to end the gathering with prizes and awards.
You could give sweets, themed goody bags (this is our personal favorite), detective equipment just for fun (spyglass, hat, notepads, and a magnifying glass), and so on.
With that said, many opt for award certificates instead. Here are some ideas (feel free to formulate them according to your needs and guests):
Best Costume Award;
Best Detective Award;
Genius Award;
Best Actor/Actress Award;
Best Performance Award;
Victim Award;
Wittiest Character Award;
Best Entertainer Award;
Best Suspect Award, and so on.
9) Serve drinks and light snacks
No murder mystery party is properly hosted without some drinks and light snacks (in case you're opting for a murder mystery party dinner, you'll have to do better than light snacks).
The amount of drinks and snacks you'll need will obviously depend on the number of attendees (another reason to make that guest list right away and not delay it further).
When it comes to the actual drinks and snacks you can serve, there are no fixed rules. It all really depends on what you and your attendees seem to resonate with.
In case you really want to highlight the fact you're running a murder mystery party, ensure your drinks' (names) correspond to the party's theme. Here are some cocktail suggestions to get you started:
Death In The Afternoon;
Black Widow;
Crime of Passion;
Hammer Horror;
The Lady Killer.
Finally, keep in mind that you may need to make some changes if you end up hosting virtual murder mystery games. For instance, you wouldn't serve drinks and light snacks, but you might arrange for a special catering service to deliver them to your guests' doorstep. Or perhaps each person might prepare a drink and a snack on their own and then you can just meet online and enjoy the murder mystery party.
Murder Mystery Games You and Your Team Can Play
Now that you know all the steps to host a murder mystery party, it's time to choose the game you'll be playing. We gave you some suggestions on the best ways to do this, so here are 8 murder mystery games that are very fun to play and have unexpected, thrilling endings.
1) Blood, Gold and A Night of Jazz
"Blood, Gold and a Night of Jazz" is all about "a cold summer evening", "a jazz-loving tech mogul", and "a guest lying bloody in the house's office".
It's up to you and your team to decide who's behind this crime. This game works well with most video conferencing tools, such as Microsoft Teams, Zoom, Skype, Google Meet, and others. With that said, you can opt for an in-person version, too. There are clear guidelines for both scenarios within the game's host guide.
Below, we also provide the character descriptions relevant to the mystery party:
Clement Maven; the rich tech mogul;
Ivano Ambrogino; gangster with a past;
Gal D. Gerr; the gangsters gal;
Terry Eagle; the champion golfer;
Glory Starr; the YouTube star;
Jiggy Loweman; the date-for-hire;
River Sax; smooth talking jazz musician;
Jessie Glass; the gossiping bartender;
Bobbie Do; the dancing maniac;
Gio Rocket; the dancing maniac's partner;
Kegan Langley; the butler with an agenda;
Marley Diva; the marquee band singer;
Jane "Pompoms" Smith; the cheerleader;
and Victor Y. Games; the basketball star.
The game also comes with:
a detective guide;
a detailed character guide (14 players);
a host guide for 4-14 players;
audio playback files and evidence files;
a ballot and a costume guide;
and a template invitation to send out to participants.
Moreover, you can use the game multiple times. In essence, apart from playing it with your team, you might also play it with friends or family members later on. And the price is the same - $49.
Again, keep in mind that there's a one-time access code to download the game, but once you've purchased it, you're free to use it as much as you need (just as we explained in the previous section). If you want to get additional information, make sure to visit the official site.
2) Roller Disco Disaster
Who shot the deputy?
This is the question you and your team are meant to answer by the end of this murder mystery game.
Here's the setting: in a small town ruled by the 80s roller disco craze, there's a fire alarm that goes off at Death by Disco, a roller dance place. People start rushing to the nearest exit and random gunshots are heard. Deputy Damon Dough, the local town officer, is dead.
Who could have done it? What motives could they have had?
You tell us!
As with the previous games, you and your team can play "Roller Disco Disaster" on your preferred video streaming platform. You get voice-over audio files, character guides, detective scripts, costume ideas, and other game-related details. Moreover, there are guest lists, template ballot slips, and invitations.
Finally, when it comes to the characters, here's what you should be prepared for:
Olivia Outtatown - a frequent traveller;
Tara Thieving - a heist master;
Harold Heisty - known as "the heist muscle";
Charlie Twolefts - a local kid that keeps falling on his/her face;
Felicity Fedrumor - the roller disco owner;
Guy Gambles - a very big gambler that owes money to a lot of people;
Mysterious Mary - a sly dancer, and no one has any idea where she's from or what she's been up to;
Rodie Rockin - the Synth Keyboard Player and a singer;
Marty Madparty - the roller disco manager;
Sawyer Skatesmooth - a skater boy;
Reverend Riley Ruise - a local pastor of the Southern Baptist church;
Harry Hermit - a ranger that lives in the woods alone;
Sally Songhits - a disco band singer that drinks a lot;
and Gerry Goner - a rollin' waiter that's pessimistic all the time.
The murder mystery game costs $49. Also, the same purchasing details apply as with Black Noir Murder and Blood, Gold and a Night of Jazz.
3) Prom Nightmare
Everyone at Montgomery High School has been waiting for prom night. However, after an unexpected visitor wants to create a disturbance, this person gets shot. Prom Nightmare is another game sure to give you and your team or friends a night filled with mystery, fun, and challenge.
You and your team need to find the killer in addition to answering other mysteries and questions.
Here are the characters for this murder mystery game:
Boyd Haywood - Montgomery High School's principal;
Sharon Whiz - The straight-A student;
Trent Muscles - the gym teacher, who's also an ex-convict that used to belong to a street gang; - Melody Jones - known as "the girl with the golden voice"
Dolly Dollar - an expert dancer;
Jessie Flippit - a butler;
Vanessa Filters - the Instagram influencer student;
Sherman Clean - the school janitor;
Avery Java - the tech person capable of hacking into any social media account (or even the school system within minutes);
Ginny Straightshot - Trent's girlfriend but also of Montgomery's school teachers;
Finley Strums - the versatile glee club president who plays all instruments;
Gats D. Moves - Dolly's b-boy date always winning dance battles;
Tre Maker - the school team's number one scorer;
and finally, Skyler Secrets - we say that "if there's a leak or gossip going around, it's because Skyler heard about it".
The price of this game is the same as all previous three murder mystery games - $49, and the purchasing rules are the same as well. There are also costume ideas, detective scripts, guest lists, template ballot slips, and other game details.
It's up to you and your team to pick a video platform, and you're ready to start playing!
4) Murder Among the Mateys
Life is never boring at sea. And this murder mystery game proves it.
Murder Among the Mateys is one of those mystery games that provide an engrossing context - by the end of the event, you and your guests will have blended with the rest of the pirate ship crew.
The game explores the pirates heading into town for a homecoming celebration, but the night is unpredictable and full of trouble. Once a tragic event takes place, it's up to the party guests to figure out who stands behind it. Is it the "saucy sea mistress"? Or perhaps the "profiteering pirate organizing a mutiny"? Maybe it's the "swashbuckling swordsman"?
Everything is at play here because everyone has a motive, but in this village full of buccaneers and backstabbers, it's tough to find honesty. Still, you and your group are expected to follow the clues, go through some case files, and arrive at a solution within the allotted time.
The game starts at $53 (it all depends on whether you're signing up with small or large groups). There's also a mystery PDF file that comes with a schedule of the night, a host guide, an introduction, character descriptions, name tags, evidence and clues, accusation sheets, objective sheets for characters, award certificates, and other materials.
Finally, here's some of the cast along with character descriptions to give you a general idea of who you and your guests are supposed to "be" during the event:
Cap'n Redbeard, the pirate captain;
Sharktooth Brandy, the sea maiden;
Merciless Morgan, the first mate;
One-eyed Wanda, the gunner;
Thumbless Jack, a crewman;
Cutthroat McPhearson, the powder monkey, and others.
5) Sour Grapes of Wrath
This free murder mystery game is great for wine lovers. It's about Robert Killingsworth buying a farm a year ago, but dying just six months after. Elizabeth, his widow, is left to tend to the winery and vineyard, as well as with tons of debts. She has no clue how to run a business with her husband gone and is desperate to sell the farm so that she can compensate for all the financial losses. However, one autumn day, "six people passed through the gates of Killingsworth Farm to see Elizabeth - one of them, a cold-blooded Killer…"
Which out of the following six characters is the murderer with the biggest motive:
Michael Nightshade: a real estate developer from New York?
Dr. Chelsea Barren: a psychiatrist?
Vicki D'Adly: Elizabeth's estranged New Jersey-based sister?
Norman D'Adly: A real estate broker?
Kathryn Lawless: Elizabeth's best friend?
or Enrique Graves: a young drifter?
It's up to you and your guests to find out!
"Sour Grapes of Wrath" comes with a very generous 69-page PDF file which includes secret clues to help you with case files, also invitations, detailed instructions, character descriptions, and so much more.
Keep in mind that the game is for six players, so if you have large groups, opting for some of our other mysteries would be the way to go.
Although a free murder mystery game, "Sour Grapes of Wrath" contains everything small groups need for a great dinner party, birthday party, team-building activity, or any other fun event you and your group might have planned. With that said, you can also make a PayPal donation.
An extra tip: why not play this murder mystery game with a glass of wine next to you? After all, you and your team can't possibly solve a murder in California's wine country without actually drinking a glass (or two).
6) Murder on the Buffalo Express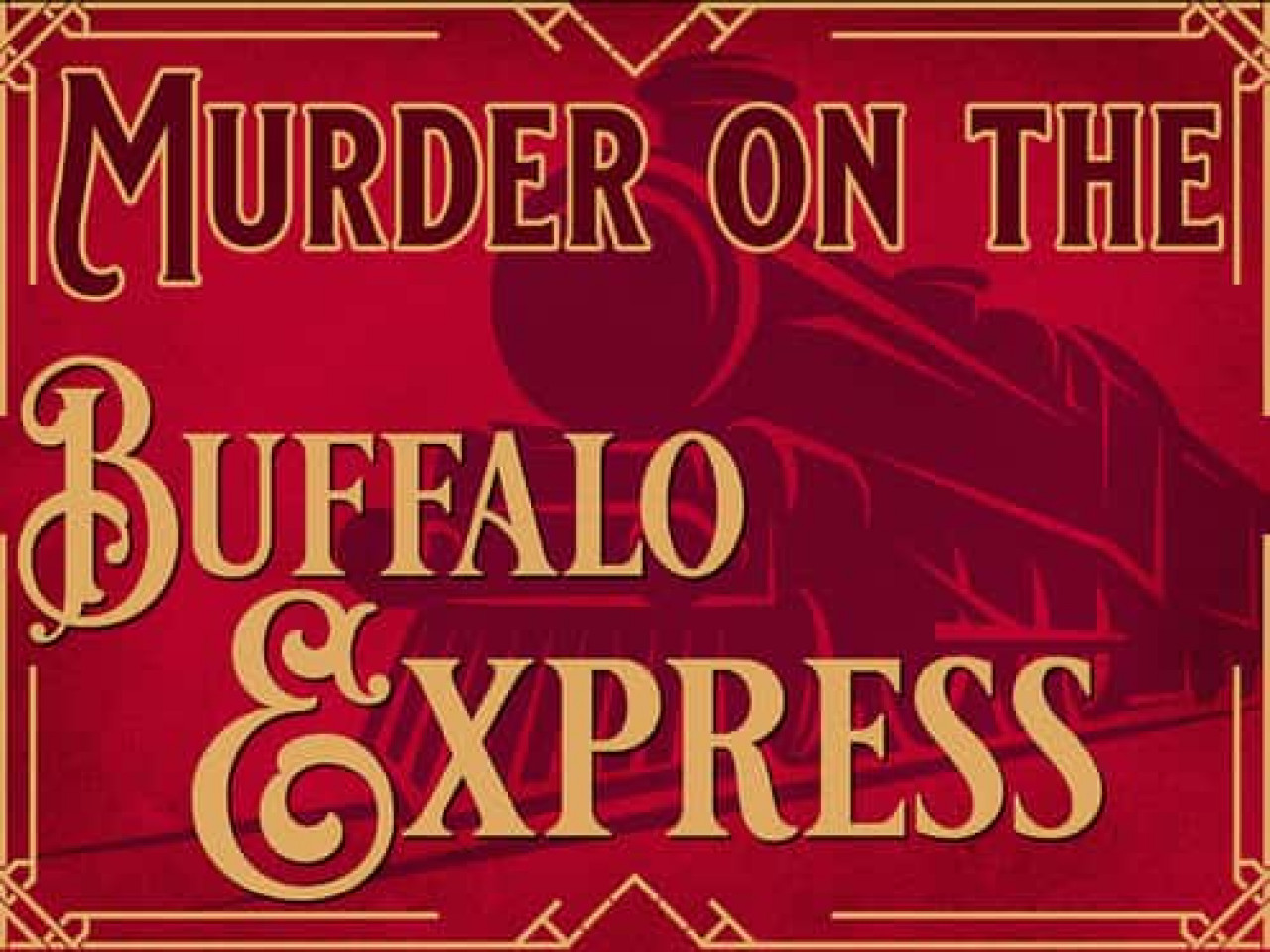 Set on a train from New York to Cleveland, this is probably the most challenging game on our list. It's great for 6-11 players, and has required video content.
"Murder on the Buffalo Express" also includes:
a host instruction file - also contains bonus games you can play online, player instructions, as well as a timeline sheet for your murder mystery event;
checklist for the host (optional);
11 character PDF files to send your guests before the actual event (they include character descriptions, a list of suspects, and three rounds of gameplay);
a solution key for the game, but the host can play freely without actually spoiling the game for the rest of the team;
three videos provided through a private YouTube link, Vimeo, or their site
a free invitation, and so on.
The game costs $48.95. Moreover, there are six required players, and five other extra characters (optional). Some of the characters are:
Kit Barcroft, a private detective;
Jo Spade, a train conductor;
Emery Blackett, a news reporter;
Carol Grierson, a stockbroker;
Frankie Olsen, a murder mystery author;
Marion McQueen, Barcroft's bodyguard;
Bernie Edwards, Barcroft's assistant, and so on.
Finally, if you and your team aren't up for a tough challenge, and you wish for an easier Zoom murder mystery party instead of mysteries with their own platforms, consider picking another game.
7) The Detective Club Murder
A free murder mystery game prepared by a well-known writer, Ruth Ware. Can your murder mystery plans get any better than this?
This mystery takes you and your team to Mistletan Manor, an ancient country house in the English countryside - home of Sir Aubrey St Clair, a crime writer. You're there to celebrate the Detective Club's fifteenth anniversary. However, once Aubrey is stabbed in his own study, everyone becomes a suspect.
Do you think you can team up with your group and solve this murder before it's too late?
"The Detective Club Murder" is one of those mysteries that come with eight possible outcomes, so you can't really get bored as quickly as with other games. Moreover, you can play any combination of four-eight club members. There's an optional narrator, too. Alternatively, many opt for Ware's video introductions which you can find on the official site to set the scene.
The game comes with printable player booklets and suggested menus, as well as a character pack for each of the following characters:
Valerie Chime: Sir Aubrey's secretary;
Alex Masters: a former marine;
Dolores De L'Amour: author of romantic crime novels;
A. N. Andrews: a young author;
Kick Carmichael: a former tennis player;
Clive Barking: Sir Aubrey's friend, but rival too;
Dr. Rowan McTaggart: a medical examiner;
and Tuffy Farqueson: Sir Subrey's literary agent.
Keep in mind that the game isn't suitable for large groups, as it's meant just for 4-8 players.
All in all, regardless of whether you decide to transform this free murder mystery game into a Zoom murder mystery game or you stick with the in-person option and the printable booklets, one thing's certain - you and your guests are going to have a great time.
Frequently Asked Questions
What are the benefits of murder mysteries?
Murder mysteries are very entertaining, but they come with other benefits, too. Below, we discuss the most important ones.
1) Interpersonal Skills
Murder mysteries are a great way for employees to interact in a meaningful way, engage in conversations, and connect with the rest of their team.
Such social interactions are important for one's mental health and overall well-being, not to mention better and more productive teamwork. Moreover, such events help workers form long-lasting social ties and interact with their peers in a less formal manner.
Since murder mysteries require people to take on an acting role, participants also get to interact with others by adopting a performance approach and exhibiting behaviors different than their own by immersing themselves in the character they're playing.
2) Problem-Solving Skills
Murder mystery games help individuals improve their problem-solving skills. Players need to handle identifying suspects (and perhaps even interviewing them), questioning motives, deducing the murderer, analyzing a wide range of clues, and so on. Also, since the objective of almost every murder mystery game is for attendees to arrive at their own conclusion, players will be required to use their complex problem-solving skills as though in real life.
This is why the best part about engaging in these activities and improving such skills in a seemingly "non-realistic setting" helps people replicate them in real life later on. Put simply, boosting one's problem-solving skills may come in handy in other scenarios, such as at work, at home, while interacting with others, solving other issues, and so on.
3) Organizational Skills
Murder mystery parties help players improve their organizational skills, too. First and foremost, attendees get to show leadership potential. Namely, all teams end up with a specific team member who takes the lead and establishes the hunt for clues, states the group's priorities, or gives the most suggestions.
Then, we also need to consider task delegation. During the murder mystery game, team members need to allocate tasks among themselves and take into account the given timeframe. Moreover, they might need to focus on note-taking, sharing information, ensuring a smooth transition from one task to another, and so on.
Next, we need to mention the planning and the execution of the murder mystery party, too. And this specifically refers to hosts such as yourself. From making a guest list, picking a murder mystery party game, planning drinks and snacks, to making name tags, preparing the game instructions, and getting the awards and prizes ready - there's a little bit of everything.
4) Communication Skills
Without adequate communication, there can be no adequate solution to any murder mystery game challenge.
Events such as these mysteries not only test teams' already existing communication skills, but they encourage them to improve those skills, too.
During a murder mystery party, all players need to make various decisions - who to team up with, who needs to take which task, who should go after suspect x and who after suspect y, which pieces of information seem to be relevant, who did what, and so on. Attendees need to go over clues and talk about each detail and how to proceed from there, which often includes lengthy discussions.
Things may sometimes get heated if members of the same team have distinct ideas. Players will need to take turns and try to back up their own theory and approach, while others should react accordingly.
Put simply, they can't decide on any of these things without communicating matters effectively with the rest of the team members.
5) Listening Skills
Effective communication goes hand in hand with effective listening. If team members aren't ready to listen to each other, see what others have to say about how a specific matter should be handled, or what their opinions are - the team is fragile and has no chance to succeed.
Helping attendees work on their listening skills is not only meaningful for the murder mystery game itself, but for other contexts too, such as upcoming collaborations at work, listening to colleagues during meetings, and so on.
Put simply, players need to listen to each other, the host, or any other person engaged in the party in any way to have success in the game (for example, many hosts decide to hire professional actors to join their murder mystery parties and make things even more engaging for their guests).
Finally, keep in mind that all these benefits apply regardless of the context of your event - a team-building activity, a murder mystery dinner party, or another event.
How do I pick the right murder mystery for my team and me?
Different teams resonate with different types of mysteries, therefore, what might seem like the right murder mystery game for you and your guests may not be an adequate fit for other teams.
Still, to know what type of mysteries you should consider, you need to sort out certain matters. For instance, if you have small groups, you need to pick mysteries with a limited number of characters. Namely, you can consider mystery games such as Roller Disco Disaster, or Blood Gold and a Night of Jazz that are able to accommodate 4-14 players. If you have smaller teams, however, you might even opt for a game such as Black Noir Murder where there's game access to 3-5 people at a time.
Next, if you want a scripted murder mystery game where most pieces of information are already provided for you, seek mysteries with that kind of approach. If you want mysteries set in a specific era, search for those kinds of games.
Nowadays, there are really many murder mystery games you can choose from, and there's something for everyone. If you wish to explore additional games besides those we provided you with, feel free to check out our website.
What are some tips and tricks for solving murder mysteries?
Below, we provide you with useful and practical tips and suggestions for solving murder mystery games you can share with your team(s) before playing:
1) Everyone's a suspect.
Keep in mind that everyone's a suspect at all times (until the murderer is actually identified). Don't rely just on what you see/read/hear. Try to read between the lines. Focus on others' body language and facial expressions. Can you notice something unusual? Do you feel like someone's hiding something? Is there anything that doesn't quite add up? If yes, what is it? How can you resolve it? Can you corroborate your suspects' claims and stories with other guests?
Moreover, try to speak to as many people as possible but avoid questioning the same guests with the same questions for no reason. That said, if new evidence or clues pop up, go back to some guests whose stories now might not make sense.
2) Eavesdrop.
Eavesdropping is rude in many contexts (probably all), but during murder mystery parties, it's something that may come in handy when you least expect it. After all, playing a murder mystery game isn't just any normal circumstance, so feel free to do it.
Finding out some juicy secrets or discovering that someone lied to you can help you make progress in your pursuit of the murderer.
3) Don't take things personally.
If someone's rude to you during the game, or they behave in a different way than what you're used to, remember that they're playing their character, so don't take things personally. Remind yourself that all of you are playing a game and that this has nothing to do with your interactions in real life.
4) Concentrate.
It can be very easy to focus on the snacks or the drink you may be holding in your arms, but don't forget you're here to solve a murder. Such distractions can make it tough to concentrate, notice details, and multitask.
5) Take notes.
Since many players know they're engaging in a game, they believe note-taking to be unnecessary for a task that's meant to be fun.
However, we can't stress enough the importance of taking notes and going back through them once new evidence or clues emerge. Note-taking allows you to focus on new, upcoming pieces of information and allows you to chronologically arrange what you know and what needs to be memorized without you having to remember everything.
Also, it'd be useful at some point during the game to compare notes with other team members you collaborate with. They might have something you could have missed and vice versa, plus you never know where the next piece of information may come from.
6) Remain open (minded).
Remain open to how the game may unfold. Remain open-minded about what someone may (not) have done.
Don't just blindly follow the script (even in cases where paradoxically, a lot of information is to be found precisely within those scripts).
Use your logic, but don't neglect some intuitive nudges you might be getting about a specific character, clue, situation, and so on.
7) Don't do everything on your own.
There are teams during such games for a reason.
So whatever it is you're trying to do (whether it's interviewing a suspect, analyzing evidence, going through some case files, etc.), don't forget to consult your team members. They might provide some insights into the matter and help you resolve things much faster.
8) Have fun!
Finally, don't forget to have a good time and enjoy yourself!
After all, isn't that what parties are all about? And this includes murder mystery parties, too!
Extra tip:
Before we wrap things up and move on to the conclusion bit of the article, we want to provide some questions you can use during the suspect questioning process in the game. Here they are (of course, feel free to expand on the list, this is enough just to get you started):
How do you know the victim? Are you related to the victim in any way?
When's the last time you saw the victim?
Were you on good terms?
Where were you at the time of the murder?
Can anyone confirm this?
Do you know anyone with a motive to kill the victim? If yes, who?
Did the victim have any problems recently?
Do you know anyone who might have been threatening the victim? If yes, who?
Did the victim hide anything?
Is there anything else you can say that will help me?
Final Words
All in all, hosting murder mysteries can be a walk in the park with the right guidance and suggestions. We not only gave you suggestions and relevant tips, but we provided you with some of the most interesting murder mystery games out there.
They're so addictive that you might even end up hosting a few of them.
Before you leave, let us know which one you're hosting first? As always, we'd love to hear from you.